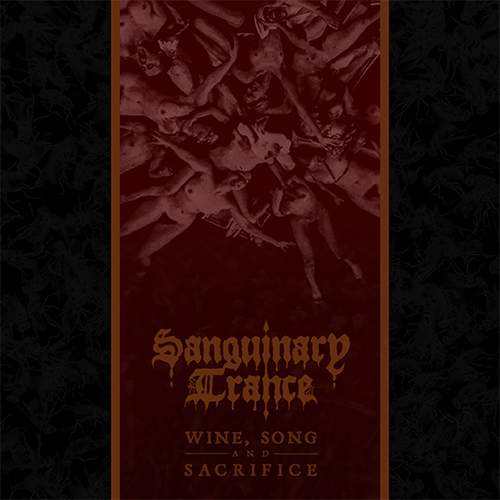 Frantic and riff-laden Black Metal from Austria. Haunting melodies in the 90s vein merged with psychedelic, dissonant parts and intricate song structures.
Three tracks/23 minutes; available on tape (pro-manufactured, first edition of 50 copies) and digitally through Bandcamp.
FULL STREAMS:
https://sanguinarytrance.bandcamp.com/a ... acrifice-2
http://www.youtube.com/watch?v=l7PiIPduA5M&t=488s
"[...] Just as many spiritually charged, ecstatic and enthusiastic musicians exist within the sub-genre yet few in recent memory channel the head-flinging-backward daze induced by the Dionysian mysteries as Austrian black metal project Sanguinary Trance." - Grizzly Butts
"I hear strains of medieval music in the solemn but seething grandeur of the title track, which grows both increasingly mystical and increasingly savage as it unfolds, and the multi-faceted vocals are harrowing enough to raise goosebumps on the skin." - No Clean Singing
"Showing more promise in their first three tracks than many established acts can manage across several releases, 'Wine, Song and Sacrifice' imbues their raw-ish black assault with equal doses dissonant horror, Dionysian madness, vampiric melodrama and rhythmic tribal intoxication. The overall effect is a menacing and overwhelmingly sensual high that can be quite dizzying if it hits you just right [...]"
- Black Metal Daily
"'Wine, Song and Sacrifice' is a bloodstained love letter to the most iconic of black metal times, but with an unmistakably unique viewpoint on it. With some unforgettable moments that set your teeth on edge and make your hair stand on end, Sanguinary Trance are indeed trance invoking and the feelings it conjures are black magickal."
- The Killchain Blog
"Highly expansive and meditative stuff. Thumbs up."
- Metal Trenches
"Raw and dissonant, Sanguinary Trance's debut EP Wine, Song and Sacrifice is a solid piece of black metal with a ritual touch and a 'classic' feel. The long title track is an impressively unfolding beast, backed by two shorter and furious finishers."
- Evening Of Light
"It's extremely easy to get lost in their hypnotic music. Which by the way is a tightknit wall of purposely penetrating noise. I can only imagine what this might feel like to witness live. I could surmise that it would be nothing less than euphoric. Radiating such an intense atmosphere. Quite beautiful really."
- Autoeroticasphyxium Zine