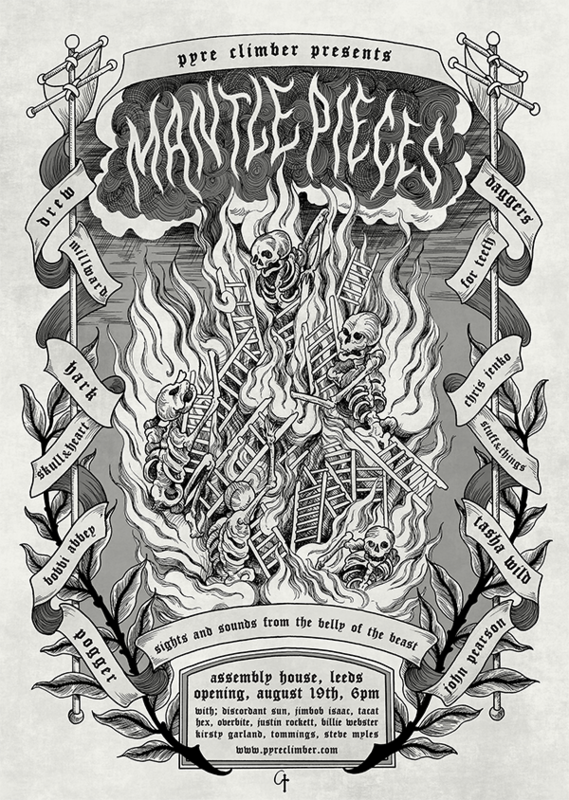 Pyre Climber presents...
Mantle Pieces
August 19th - 21st 2016 \\ Assembly House, 44 Canal Rd, Armley, Leeds, LS12 2PL
6pm - til late \\ Free Entry \\ Fully Licensed \\ Art + Noise + Food \\ No Bigotry
FB Event Page -
https://www.facebook.com/events/1620926631531341/
Mantle - Thin cloth used as a shroud or cloak.
Pieces - A written, musical, or artistic creation.
We're teaming up with the mega SNAKE OIL for our first not-for-profit art exhibition down at Assembly House. There''ll be some of our favourite artists as well as a bunch of music, live painting, vegan food and a fully licensed bar. Guaranteed banger!!
MUSIC (Friday 19th)
TACAT - Prominent member of the Slut Drop collective championing women producers, dj's and promoters. Tacat will be dropping us a experimental/dark beats into the early hours.
https://soundcloud.com/tacat
Hark - From the ashes of Taint comes Hark. Having toured with the likes of CLUTCH, KYLESA, RED FANG, A STORM OF LIGHT and PRONG, this four pieces have set the bar high with challenging songs, dizzying musicality, brute force and energetic live shows.
http://www.harkband.com/
HEX - New leeds HC band from the Chunk music collective made up of members of Famine, Lugubrious Children and some more familiar faces. Caught their first gig last weekend and it was blinding!
Overbite - punk/hardcore/low fi noise over from Galway Ireland.
https://overbitehc.bandcamp.com/
6.00 - Doors
8.00 - 8.30 - Overbite
9.00 - 9.30 - Hex
10.00 -10.40 - Hark
10.40 - Late - TACAT
ART
Drew Millward
http://www.drewmillward.com/
Daggers For Teeth
http://daggersforteeth.bigcartel.com/
Skull & Heart
https://skullandheart.co.uk/
John Pearson Illustration
http://johnjpearson.co.uk/
Chris_Jenko_Tattooer
https://www.instagram.com/chris_jenko_tattooer/
Discordant Sun Shirts
http://www.instagram.com/discordant_sun
Adrian Baxter
http://www.instagram.com/adrianbaxter_
Pogger artwork
http://www.poggerart.com/
Stuff & Things Collective
http://stcollective.bigcartel.com/
Jimbob Isaac
http://jimbobisaac.com/
Kirsty Garland Photography
https://www.flickr.com/photos/42149714@N07/
Tommings
http://www.tommings.com/
Bobbi Abbey
http://www.bobbiabbey.com/
Sami Graystone / The Meat Hook
http://www.themeathook.co.uk/
Billie Webster Illustration
http://www.billiewebster.co.uk/
Justin Rockétt
https://www.instagram.com/rockett_tattoo
Kelly Bishop
http://kellybishop.co.uk/
Kelly Boyle - Visual Artist
http://www.kellyboyle.co.uk
Tasha Wild
https://www.instagram.com/tashawild
Steve Myles Illustration
http://smylesscribbles.blogspot.co.uk/
Pyre Climber
http://www.pyreclimber.com
+ more TBA!
DIRECTIONS
Assembly House is located at 44-46 Canal Road, Armley, Leeds, LS12 2PL. The venue is on the corner of Canal road and Pickering Street, opposite the old Armley Rail Station. There is a free car park on site. Bicycles can be stored within the studios
upon request.
The Number 15 bus service runs directly past the studio and can be caught from Leeds Train Station, Kirkgate, and Wellington Street. Taxis to Assembly House cost approx. £5 from Hyde Park or Leeds LS1.
http://www.pyreclimber.com