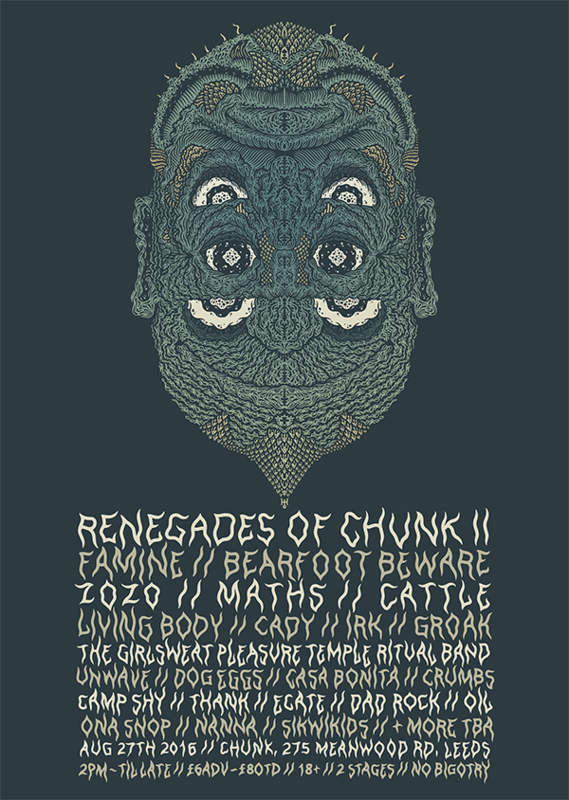 Aug 27th // CHUNK, 275 Meanwood RD, Leeds
2pm - til late // £6adv - £8otd // 18+ // 2 Stages// No Clashes // No Bigotry
FB Event Page -
https://www.facebook.com/events/622744704566695/
Second edition of the big bad fundraiser for the Chunk music collective!!
Only one day this time round, fully licensed with DJ's until late!
Guaranteed banger, more bands to be announced too!
CHUNK is a rehearsal studio/music venue/art space in Leeds. CHUNK is operated by a small group of musicians and art lovers. CHUNK works in the spirit of DIY. CHUNK is independent, not for profit, and runs on love and noise.
We'll also have food on a pay as you feel basis courtesy of the mega tasty Armley Junk-tion!
Tickets here -
http://www.skiddle.com/e/12799402
Famine
https://faminegrind.bandcamp.com/
Bearfoot Beware
https://bearfootbeware.bandcamp.com/
ZoZo
https://zozozozoband.bandcamp.com/releases
Maths
https://maths.bandcamp.com/
Cattle
https://cattle.bandcamp.com/
Living Body
http://livingbodylife.com/
CADY
https://cadyheron.bandcamp.com/
Irk
https://irkband.bandcamp.com/
Groak
https://groak.bandcamp.com/
The Girl Sweat Pleasure Temple Ritual Band
UNWAVE
https://unwave.bandcamp.com/
Dog Eggs
https://dogeggs.bandcamp.com/releases
Casa Bonita
https://casabonita.bandcamp.com/
Crumbs
https://crumbscrumbs.bandcamp.com/
Camp Shy
https://campshy.bandcamp.com/releases
Thank
ECATE
https://ecate.bandcamp.com/releases
Dad Rock
https://dadrockrock.bandcamp.com/
Oil
Ona Snop
https://onasnipsnop.bandcamp.com/
Nanna
https://nanna.bandcamp.com/releases
Sikwikids
Poster by Steve Myles
http://www.instagram.com/smyles_85