s03e13: Elaan of Troyius
aka: "The Craziest Bitch in Space"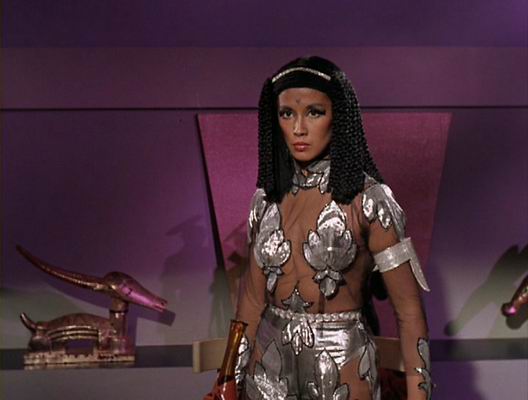 They start out talking shit on some bureaucrats and how it's a bogus mission, picking up some ruler from some planet and taking them to another. Plus, then they find out it's a woman -- and she's a pain in the ass, demanding things like respect just because she RUNS A FUCKING PLANET -- and whatever. So she's the Angry Space Hottie. Fine. I think we all know where this is gonna go, but first there's this fucking guy: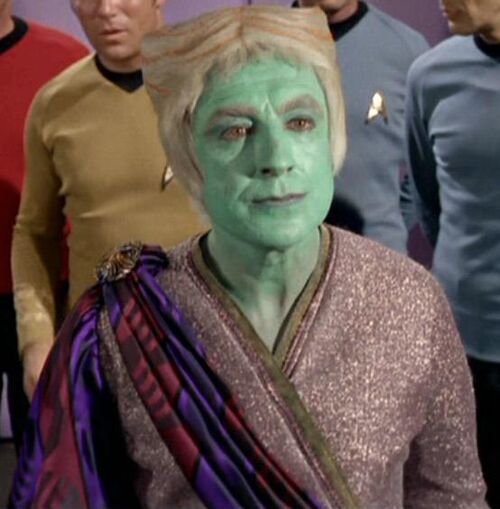 He is THE GREEN DOUCHE. The whole thing is that Angry Space Hottie is pretty much being sold off to marry the leader of Green Douche's planet to stop a war. She's all pissed about it, and it's his job apparently to demean her into womanly submission so that she's not all uppity when she shows up on the planet Troyius to marry some other green douche.
Whatever. Fine. Kirk's all like, "Yeah whatevs" and I share the sentiment.
Light comedy ensues. Very light. Then Angry Space Hottie -- who I refuse to call Elaan if only not to reinforce 40-plus years later the self-satisfied cleverness of whoever decided to turn "Helen of Troy" into "Elaan of Troyius" -- stabs the ambassador. I marked that a win.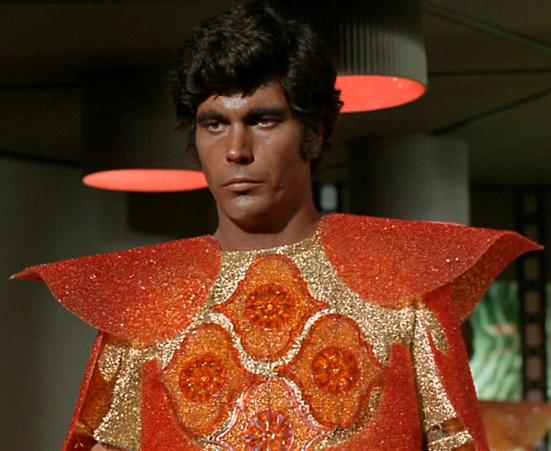 In the meantime, there's a whole thing with Sparkle Shoulders here selling MAGIC CRYSTAL POWER secrets to Klingons -- the message being clear not to trust the savages -- but whatever. Kirk decides he has to put Angry Space Hottie in her place and this leads to three absolutely golden scenes:
1.
Kirk berates Angry Space Hottie and actually sells the phrase, "That's another one of your problems," in response to her saying she didn't want to be told what to do. Fucking genius.
2.
The gag is that Angry Space Hottie can put men under her spell with her tears. Crazy bitches, amirite? After the ambassador is stabbed, he's in sick bay and he explains to the nice nurse lady that MEN LOVE CRAZY BITCHES. OH THEY CAN'T GET ENOUGH. BITCHES START CRYING AND MEN ARE LIKE, "YO, CRAZY BITCH, YOU'RE IN CHARGE NOW." So it goes with Kirk.
3.
Bones and Spock show up and catch Kirk and Angry Space Hottie making out once she's got him under her BITCHES BE CRAZY spell and have this complete lack of surprise:
They pull him aside for like a threeway spacebro-intervention and Spock's all, "Captain, logically speaking, bitches have indeed been shown to be substantively crazy," and then Kirk's like, "Thanks bros" and then he mans up because he's a real fucking man and he's gonna get Angry Space Hottie in line one way or another.
Sparkle Shoulders fucked with the ship though and the Klingons are coming, SOME THIN PLOT POINT about disputed space, blah blah. So there's a whole, how are they gonna fix it, but in the meantime, Angry Space Hottie shows up on the deck and she's wearing her wedding dress and all quiet. Kirk nailed her and brought her around WITH MAGIC DICK. That's why he's the fucking captain.
Some cool spaceship fighting ensues -- and Kirk's like, "Holy shit I'm so much smarter than Klingons because they're stupid communists" and that makes Chekov cry, and the Klingon ship ONCE AGAIN is shaped like a wang, and then the Enterprise wins because some necklace that Angry Space Hottie got was made out of JUST THE RIGHT MAGIC FUCKING CRYSTALS WHAT ARE THE CHANCES.
Next time we see Angry Space Hottie she's all "thanks Jim Kirk for teaching me my place as a woman" and submissive:
She gives Kirk her knife because she's like "Hey I used to be a PROUD AS FUCK WARRIOR but in the span of like six hours you completely broke my psyche thanks for that by the way" and then there's a scene where Bones comes on the bridge and has a bro conference with Spock like, "Spacebro I made this antidote to CRAZY BITCHES we gotta give the captain" and Spock goes "Nah bro, logically speaking, the captain's too much of a man to be taken in by that shit because he loves his work more than he can love a woman and he's like, married to the ship or some shit because that's how you roll when you're a real man, dick."
To which Bones replies, "word." Episode over.
I know it's not supposed to be fair to hold something from the past up to a modern standard of social norms, but for as progressive as Star Trek has claimed to be all these decades about racial and political divides, women more or less get shit on on a per-episode basis. Presumably this is no longer the case by the time Captain Janeway shows up:
Something tells me she wouldn't have that shit. Too bad they never put her and Kirk in the same room like they did with Picard in that one movie.